Launching a video session
Click on the scheduled online/video session you'd like to start. You will be brought to your session details. Sessions that have been booked for online/video chat will have a Start Session button in the top right corner. Click here to start your session.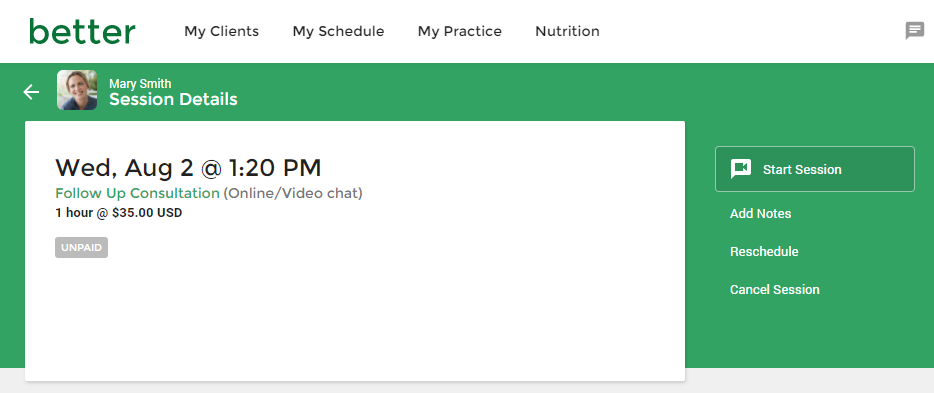 Optionally, you can find shortcut links to start your session on your My Bookings page and your client's individual Bookings page:

Starting your video session
Even though your video conference page has opened, you still are not in an active session. Once you are situated and ready for your session to begin, click on Start Session at the top right-hand corner of your screen.

Your session will be underway once your client has also accepted your request to join the session.
Video Session Functions
In your session, you have options to mute yourself, turn off your video streaming (or switch cameras), show your chat and share your screen.
Audio muting/unmuting
If you'd like to mute yourself so that participants can't hear you, simply click on the microphone icon at the bottom of your video conference screen. You will see a line through the microphone when it is muted. To unmute, hit the microphone icon again.


Unmuted audio


Muted audio
Live video stream on/off
If you'd like to turn off your video camera so that participants can't see you, simply click on the video camera icon at the bottom of your video conference screen. You will see a line through the video camera icon once your video camera is turned off and you won't see a live stream of yourself on your screen. To turn your video camera back on, hit the video camera icon again.

Chat
Click on the chat icon at the bottom of your video conference screen if you'd like to display your chat for this session. Once chat is open, you can type into the chat field to communicate with client in real-time. If you'd like to hide chat, click on the chat icon again.

The chat window appears on the right edge of the screen on desktop and in a popup window on mobile devices.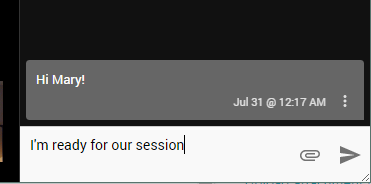 Screen sharing (Google Chrome and Firefox only)
Share your screen by clicking the Share Screen button at the top right-hand side of your video session. Select the screen you'd like to share and click Share. When you'd like to stop sharing your screen, simply click Stop screen sharing. Learn more about sharing documents during video chat sessions.
Screen sharing in Google Chrome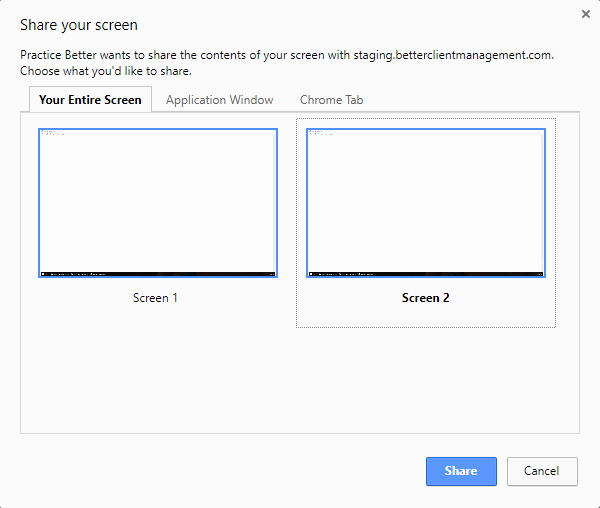 Note: The first time that you want to share your screen you will be required to download a Google Chrome Extension that is required for Practice Better Telehealth to work.  See more details about this here.

Screen sharing in Firefox
After clicking the Share screen button, you will be prompted to select a screen to share in the top-left corner. Select your screen then click Allow to begin your screen share.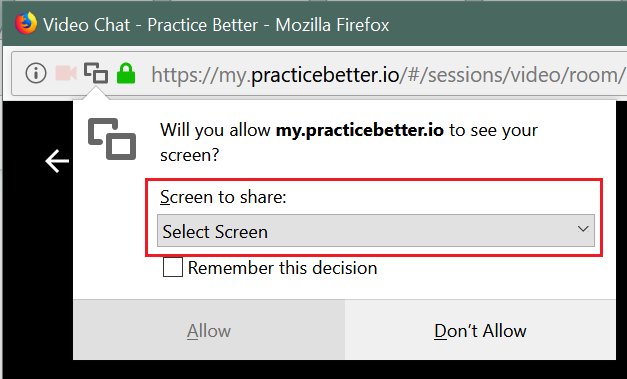 Full-Screen View
If you'd like to maximize your video session to fit your screen, click on more options (three dots) at the top right-hand corner of your screen and select Full Screen. Click Exit Full Screen when you're ready to go back to your regular viewing screen.

Ending a session
To end a video session, click on the red Exit icon at the bottom of your screen. Ending a session is only available to practitioners.
Video Chat in Messenger
You'll notice that you can also launch a video chat from your Messenger. From any chat screen, you'll find a video camera icon in the chat title bar. Click the video chat icon to begin a video session.

Video chats launched from your Messenger work the same as explained above except they are not linked to specific appointments.

Video Chat Settings
Your video conference screen will open either in a new tab or a new pop-up depending on your setting preferences. You can configure your preference in Settings > Telehealth & Messaging:

If you'd like to use Practice Better Telehealth to run video sessions, make sure Use Practice Better for my online/video chat sessions is selected. This ensures that clients receive instructions to join their scheduled video session in their reminder emails.
Adjusting Audio and Video Settings
Within your session, you may notice the other participant is not seeing or hearing you. You can try adjusting the device(s) used to capture your audio and video by clicking on the Settings icon within your call.

If the other participant is not hearing you, try adjusting the Microphone setting
If the other participant is not seeing you, try adjusting your Video setting
If you are not hearing the other participant, try adjusting the Speakers setting