Practice Better provides many options to collect information from your clients using forms and waivers. This section covers the following topics:
Overview
Practice Better supports creating and using forms in two ways:
Using our Form Builder
You can build forms with a range of question types including multiple choice, tables, scale, and contact information. These forms can be signed and completed by your clients directly from the Client Portal or an email link without having to download or print.


Uploaded Forms/Worksheets
You can upload your existing forms/worksheets (e.g. PDF, Word, Excel) which clients will be able to download, complete, then upload/submit.
We also provide pre-built templates which you can add to your account and modify to suit your needs. We also provide templates from LEAP, IFNA, and That Clean Life. Learn more
Creating a new form
Go to My Practice > Forms & Waivers from the top navigation menu.
If this is your first form, you will see a Get Started prompt with options to create your form:

Select View templates to select a pre-built template; Upload to upload an existing form/worksheet; Create.. to create a form or waiver.
If you have an existing form in your account, you can add new forms by clicking the Fast Action Button in the bottom-right corner, then selecting an option from the popup list:
Although forms can be created and edited on your tablet or mobile device, we recommend using a laptop/desktop as the editing process is optimized for larger screens.
Creating a form/waiver using the Form Builder
If you've selected the Create form or Create waiver option, or selected a pre-built template, you will be able to edit your new form using our Form Builder.
Form and waivers are similar in nature, the only difference is with the waiver option we will automatically add a text block and a signature option to your form when you open the Form Builder.
The Create/Edit form page has two tabs:
Form Builder which allows you to add new questions and elements to your form, and
Conditional Flows which allows you to manage questions which are hidden/visible to clients based on the answers they provide.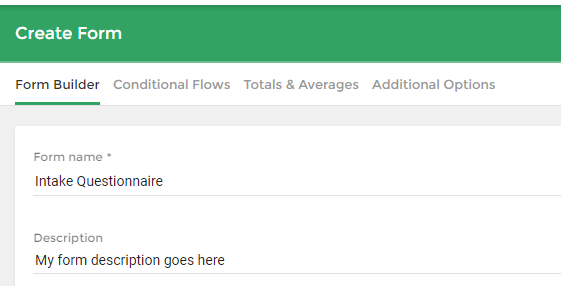 Enter a name for your form and an optional description. You can use the description field to add general instructions for completing the form. Links can also be included in this text box if you need clients to refer to supporting materials when completing your form.
Questions & Elements
Questions can be added from the Toolbox to the right of the main content area. Optionally, you can select Add element from the Fast Action Button in the bottom right corner.

Element Type
Description
1
Personal Information

Use the Personal Information question to collect name, contact information and other personal details for your client:



2
Signature/Consent
Add up to 3 required client signatures. Add your practitioner signature to pre-sign forms before sending to your clients to complete.
3
Section Title
Use Section Titles to divide groups of questions in your form. You can also use Section Titles as page breaks to split content on to multiple pages.
4
Text Block

Use Text Blocks to include informational content. These blocks are useful when creating consent forms and waivers.

The text editor here allows you to format your text and content. You can embed images and videos by clicking on the image or video icon on the bottom-left corner of the text editor toolbar:


You can also include placeholders by using the Placeholder button in the top-left corner of the toolbar. Placeholders will be auto-filled with data before being sent to your client to complete:


5
Short Response
Use Short response to collect short free-form responses up to 140 characters.
6
Long Response
Use Long response to collect free-form responses up to 5000 characters.
7
Yes/No

You can customize the labels for Yes/No questions and add a follow-up based on your client's answer.



8
Checkboxes (multiple selection)

Use the Checkboxes question when you want your clients to select multiple options from a list of possible answers.



9
Multiple Choice (single selection)

Use the Multiple Choice question when you want your clients to select a single choice from a list of possible answers.



10
Multiple Choice Grid
Use the Multiple Choice Grid to allow clients to choose from a range of answers for a set of related questions. You can also add scores/weights to each column to calculate totals.


11
Text Grid/List
Use Text Grid/List to collect a set of text or numeric answers from clients. Totals can be calculated as averages or sums.


12
Table

Use Tables when you need to collect responses for structured/table-based information. You can add additional rows and columns as required.

Columns can be set up as checkboxes, numeric and free-form text entries.

You can also provide clients with the option to add more rows if more answers can be provided.



13
Scale
14
Number
Use the Number question when you need to collect a numeric answer from your client (e.g. How many hours do you work a day?)
15
Date/Time
Use the Date/Time question when you need to collect date-based answers from your client (e.g. What was the date of your last surgery?)
16
Time
Use the Time question when you need to collect time-based answers from your client (e.g. What time do you typically wake up in the morning?)
17
Healthcare Provider
Use the Healthcare Provider question to collect information about your client's healthcare provider (e.g. doctor, dentist, etc)
18
Contact Person
Use the Contact Person question to collect information about your client's family members or emergency contacts.
19
Page Break
Use the Page Break to split content on to multiple pages. This may be useful to split up longer forms.
Adding elements from the Toolbox
To include elements from the toolbox, you can either click to add the element to the bottom of the current page or press and hold the element icon then drag it to the content area of the Form Builder.
Elements can be dragged to any position, just look for the divider between elements to position your new question above or below existing questions:

The toolbox may not be visible on smaller devices (tablets and phones).
Adding pages to a form
For longer forms, it may make sense to split your questions into multiple pages to provide clients with a better user experience, both visually and performance wise.
You can add a new page to your form either by using a Page Break or Section Title.
Adding pages using Page Breaks
Add a page break by dragging the Page Break icon from the Toolbox onto the main content area of your form:
You can also single-click this button to start a new page after the last question/element on the page.
Adding pages using Section Titles
Use Section Titles if you want to start a new page with a header. Ensure the "Start section on new page" checkbox is selected to insert a page break before this element.

You can toggle between pages in your forms by using the navigation bar at the bottom of the screen:

Adding Signatures to a Form
You can collect up to 3 signatures for any given form or waiver. Add a signer from the Toolbox by clicking the Signature button in the top-left corner: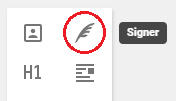 From the popup, select the signer type, whether it is yourself or your client and an optional consent/ acknowledgment text block: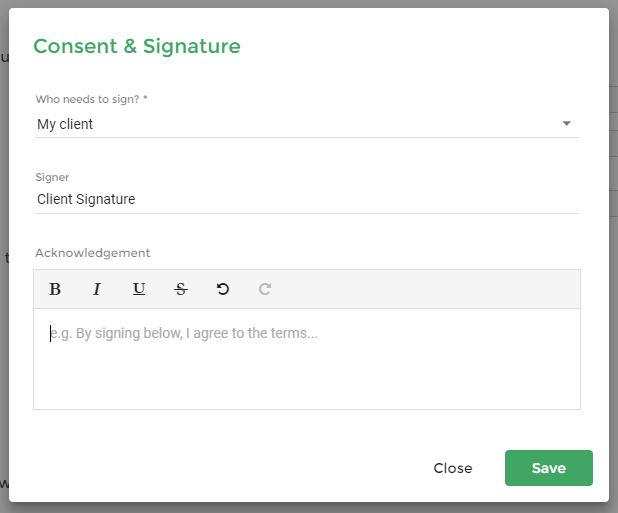 Keep in mind, if you add multiple signatures to your form, both signatures will need to be provided in order for your form to be submitted.
Pre-signing forms
You can pre-sign forms by adding yourself a signer from the Consent & Signature popup. Forms will be pre-signed with the signature you've added to your account before being sent to your client to complete.
You can adjust your default signature for pre-signed forms by going to Settings & Preferences > Forms & Signature: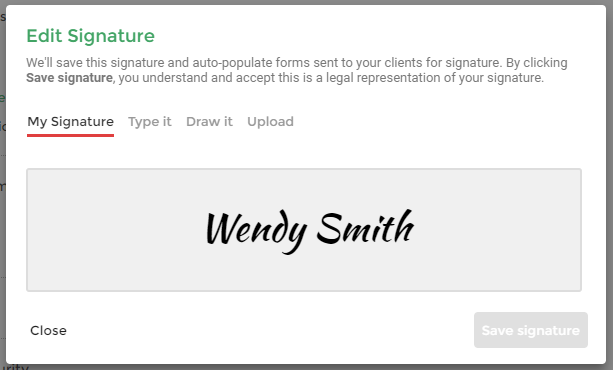 Previewing Forms
We recommend previewing forms before sending them to your clients. Previewing a form will let you view it as your client sees it including any conditional flows and rules you have defined.
You can preview a form by going to My Practice > Forms & Waivers. Click the More Options button (3 dots) next to your form, then select Preview from the options provided.
From the More Options menu (3 dots) you can also download a PDF version of your form by selecting the View as PDF option.
Sending Forms to your Client to Complete
You can send forms to your clients by going to My Practice > Forms & Waivers. Click Send to client to send the form to your client.

You can set up forms to be sent to clients on daily, weekly or monthly recurring schedules. Learn more
You may also want to consider setting up automations to auto-send forms after a booking or package is confirmed.