In order to create protocols, store medical information, and share recommendations with your clients you will first need to create a client profile.
To do this locate the My Clients section in your navigation bar, and select the red Fast Action Button to see the various action items associated with the page, select Add Client.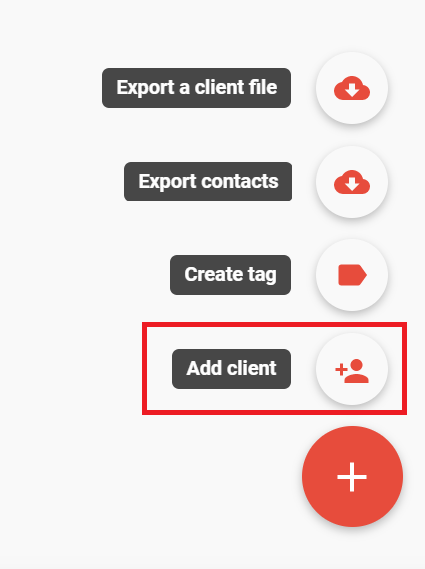 If you have clients pinned, you will see an Add Client option when selecting My Clients.

Create profile and invite client to join Practice Better
This option allows your client to activate an account (set up a login/password) to gain access to the Client Portal. We will send an email to your client with instructions on how to complete this process.
You can also customize the content of these invitation emails if you have a subscription to the Professional Plan (or higher). More information on customizing Email Templates can be found here.
Access to the portal is required if you intend to share protocols, session notes, and recommendations with your client. The following features will be unavailable to you and your clients until they activate their account:
Sending messages using the Secure Messenger
Sharing files via the My Documents section
Conducting Telehealth Video Sessions
Log entries in the Food + Mood and Lifestyle Journal
Access program/course materials (unless you're running an email-only program)
Access to a Food & Mood Journal and a Lifestyle Journal allows your clients to track their meals and overall relationship with food (e.g. where and how they felt after eating). Your clients can also track their daily water intake.

Lifestyle Journals allow your clients to track bowel movements, mood, weight, and other key wellness indicators.

You can always give your clients access to either of these journals at a later date.
Create client profile only
Choosing this option means you can create and manage client data in the platform without giving your client access to the Client Portal.
Clients can still perform the following tasks without having access to the Client Portal:
Request and pay for sessions, packages, and programs from your Bookings Page
Receive appointment reminders (optional)
Complete forms and waivers
Complete tasks
Pay invoices
Testing with a dummy client
Creating a dummy client is a great option to help you get familiar with the platform before giving access to your clients. All you need to do is fill out the mandatory fields in the Add Client form and provide a secondary email address (other than the one associated with your practitioner account). An invite will be sent to this email address.
Note: You cannot be signed-in as both a practitioner and client at the same time. Sign out of your practitioner account before accessing your test client account.