Roles allow you to restrict what settings and resources team members have access to within their portal. You can create one role for multiple team members or specific roles for individuals.
Creating Roles
To add a new role, click on the Profile menu in the top-right corner, then select My Team: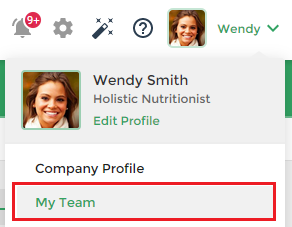 Click Add role to create a new role:

Permissions
A role defines a set of permissions that allow team members to view, modify and delete resources. For example, within the Bookings & Packages permission category, you can enable access to view but not the ability to create and update bookings: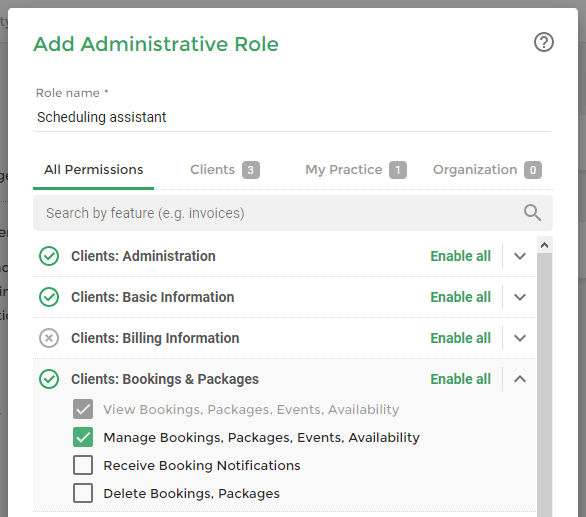 Permission Dependencies
Certain permissions may have dependencies that are auto-enabled when the permission is selected. For example, enabling the Clients: Bookings & Packages > View Bookings permission will also enable the Clients: Basic Information > View permission.
Using Role Templates
You can create a role based on one of our existing presets (e.g Scheduling assistant, Bookkeeper). These roles include appropriate permissions for their respective jobs/responsibilities. Select a preset by clicking the magic wand icon in the bottom-left corner of the popup:

Once you've selected a preset, you can then adjust the role to add or remove permissions as needed.
Restricting Access to Specific Clients
You may have team members who work with specific clients within your practice and may want to restrict access to these clients from their portal. Client-specific restrictions work based on Client Tags which can be set up on your My Clients page.
For example, let's say you've created a tag for clients at a specific location, you can restrict what resources a specific team member(s) sees by enabling the "Restrict access" checkbox, then select the tag from the list below:

You can then assign the tag to specific clients from your My Clients page. Learn more about working with tags

If your role includes access to view bookings, team members will see some basic information (e.g. name, email address) on all attendees in group sessions regardless of their tags; however, they won't have access to view other details on clients who are not within their tag restriction.
Duplicating Roles
Once you've created a role, you can easily duplicate it by selecting Duplicate from the More options menu next to the role:

Assigning Roles
Once you've created a role, you can invite team members by clicking the Invite people button in the Team Members section:

Enter your team member's contact information then select a role from the drop-down list:

Access to Settings & Preferences
Each team member has access to modify some basic settings in their account (e.g. their notification preferences and messaging settings). If their assigned role includes the Settings > Manage Settings permission you can grant them access to update settings for other team members: