Two-factor authentication (2FA) provides an extra layer of security when signing into your Practice Better portal. After signing in with your password, you'll be prompted to enter a 6-digit verification code from an authentication app such as Google Authenticator or Microsoft Authenticator.
Two-factor authentication is available when using your Practice Better email and password credentials. If you're using Google Sign in, we recommend setting up 2-Step Verification for your Google Account.
Set up Two-Factor Authentication
1) In your portal, navigate to Settings > Login Options
2) Click Set up next to two-step authentication:

3) Open your authenticator app and scan the QR code displayed in the popup. This will add a new account to your authenticator named Practice Better with your PB email address displayed, e.g. Practice Better (wendy@wendypractitioner.com)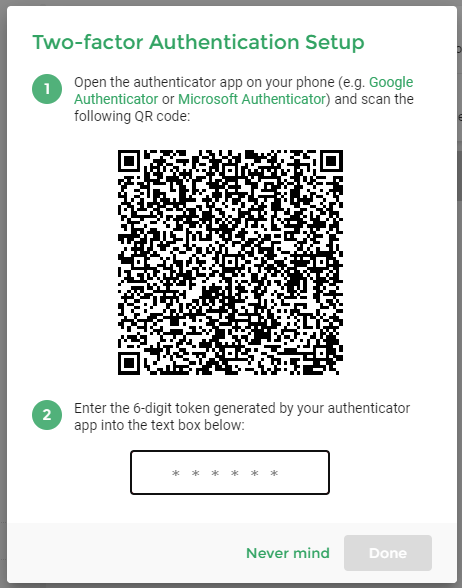 4) Enter the 6-digit verification token generated by the authenticator app into the popup to complete the 2FA setup.
Backup Codes
After setting up your 2FA, you will be prompted to download a list of one-time use backup codes. Download and print these codes and store them securely; they can be used if you are unable to provide a verification code from an authenticator app.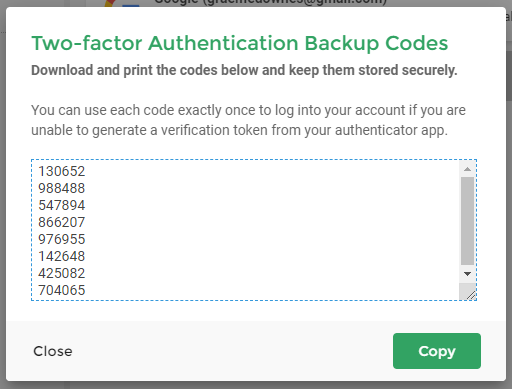 A backup code can be used by selecting Use backup code on the two-factor authentication screen: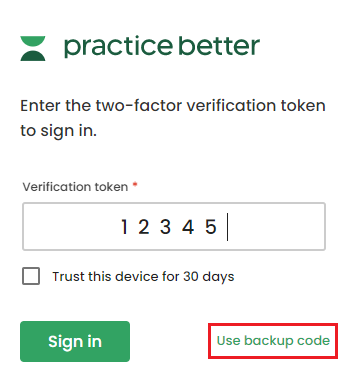 You can view your current list of backup codes on your Settings > Login Options page. Click the More Options menu (3 dots) and select Get backup codes from the options provided. You can also regenerate a new list of backup codes from the same menu.

Trusted Devices
By default, you'll be prompted to enter a 2FA verification token every time you sign in to your portal. Optionally, you can choose to trust your device and skip 2FA verification for 30 days. The 2FA verification prompt will only be skipped when using the browser (e.g. Chrome) on the device you enabled trust for.
Enable the trust option on the 2FA verification screen and then enter a valid token from your authenticator app to continue: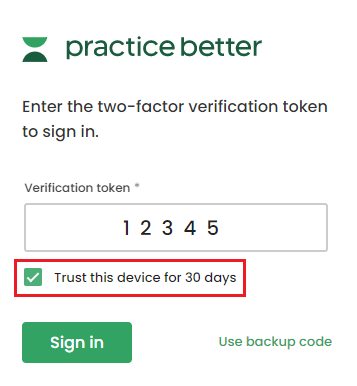 You can delete the list of trusted devices from the 2FA More Options menu on the Login Options page.