Adding content to your program doesn't require you to be tech savvy but it can still be impressive! Set up your intro emails (optional for each module), create or upload your content (including PDFs, video & images), add tasks & worksheets and you're ready to go!
Keep reading for a detailed outline of each of these steps.

Add a Module
1) Name your module
2) Create a short description of your program so clients know what the program is about.
3) Select if the content is locked until a scheduled date or if it's available to access once the participant has registered. This option cannot be adjusted after the module has been created
Use the "Allow registered clients to access content at any time" option if you want to make the module available before the official program start date. This is a great option if you need to provide clients with prep/introductory program materials.
4) If the content is locked, specify when you'd like it to be unlocked and available to participants.
For Evergreen programs, you can customize the time of day when the modules should be released. This option is available when scheduling modules to be released after X days/weeks/months:

We use the time zone of your client if available, otherwise, your module will be released at the time specified in your time zone.
5) Optionally include a welcome email to introduce the module.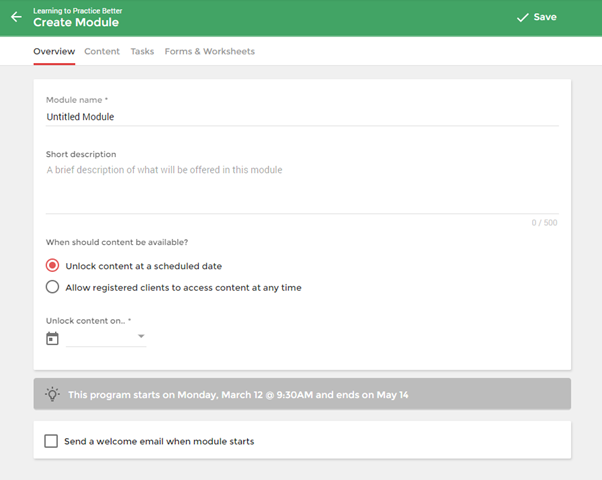 Adding Content to a Module
The content you add to each module will be the backbone of your program. You can add pre-recorded videos and audio clips as well as documents and images to complete your content. You can add content to your module by simply uploading existing content from your computer and/or you can create your content in Practice Better using our Text Editor.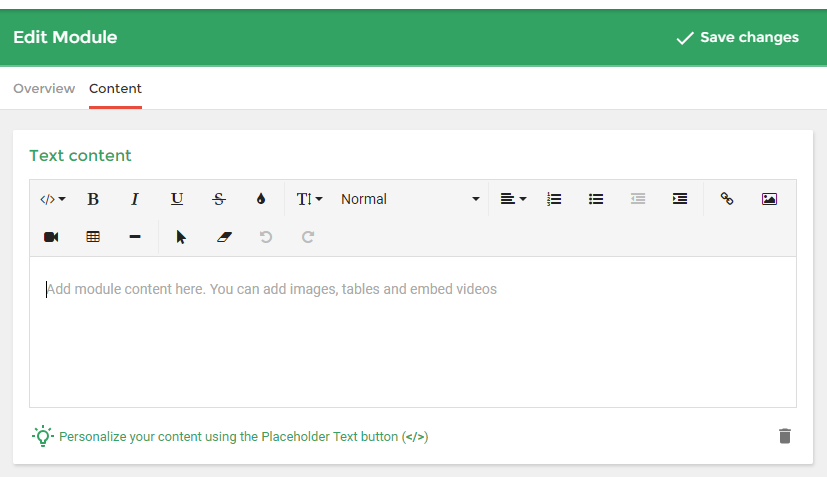 Personalizing Content in the Text Editor
You can include placeholders for your client's first and last name in your module Text Editor. Click on the placeholder button in the top-left corner of the editor to insert placeholders into your content body.
** When previewing your modules, you'll see your name wherever placeholders have been added. **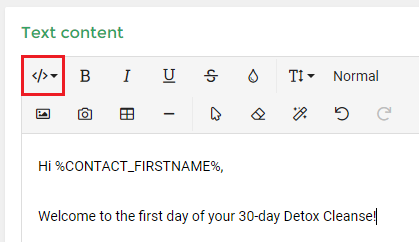 Adding videos, audio, and documents to your module
In the Content tab of your module attach supporting external documents by clicking on the Fast Action Button in the bottom right corner. Click Attach documents, videos and images to select files from your computer: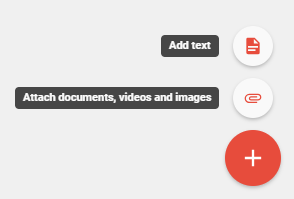 For previewable content (e.g. PDFs, Word documents, images, and videos) you can prevent clients from saving content to their hard drive by checking the Disable download checkbox:

We also provide the option to embed images and videos from YouTube and Vimeo directly into the Text Editor by using the Image and Video Embed buttons on the Text Editor toolbar:

Adding Tasks
Adding Tasks to your module is a great way to keep clients on track and keeping them accountable and help them (and you!) to track their progress.
Go to the

Tasks

tab and click on

Add task to complete

Name and describe your task.

Set an optional due date for your task.

Tasks will be accessible at the same time as their corresponding modules.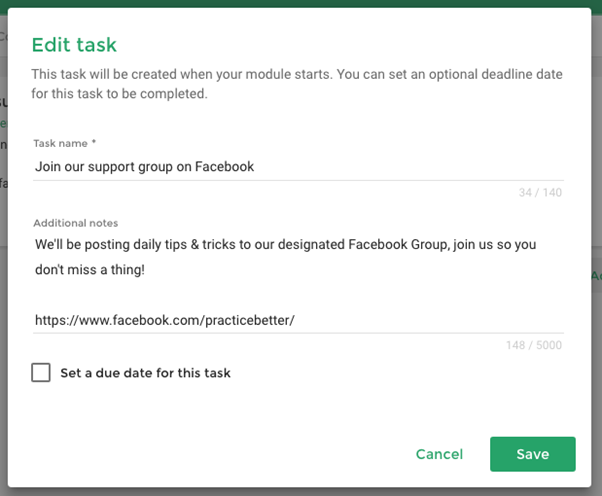 Adding Forms & Worksheets to a module
Forms are available for modules unlocked during the course of a program's duration. You can add forms and worksheets to complete by following these steps:
Go to the Forms & Worksheets tab
Click Add form to complete and select a form or worksheet from the list forms you've created.
Forms will be accessible at the same time as their corresponding modules.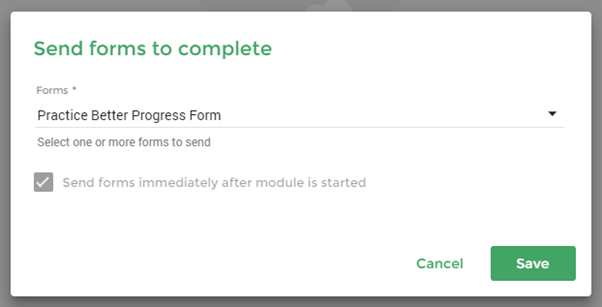 Saving your Module
When saving a module, you can choose to Save and publish your module so it will be available to enrolled participants or you can Save draft. Saving your module as a draft is a great option if you're not yet ready to share a module with participants.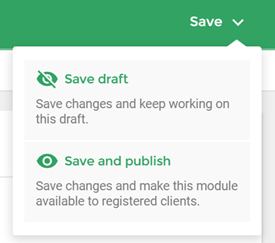 Draft modules are not visible to your clients from their Program Overview page or your Program Registration Page.