This option allows you to import your client's answers and your private annotations into a new session note.
1) Go to your client's Forms & Waivers section, then select Create notes from the More Options Button:

2) In the Create Notes popup, select the questions/answers/aggregates you'd like to populate your note. Questions with answers provided by your client will have an "A" icon to the right of the question. Aggregates with values will have a calculator icon to the right of the label.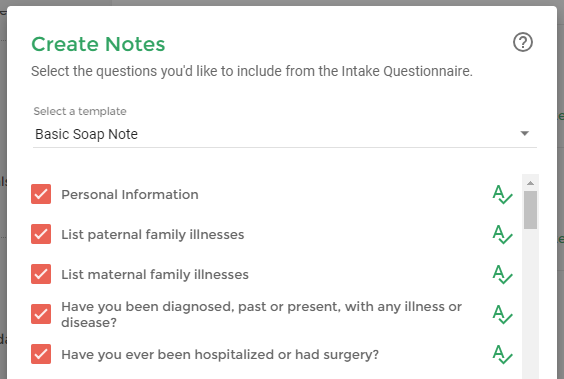 3) Click Create to create your new notes
Importing a form into a note template
By default, notes will be imported into a new empty note, but you also have the option of importing your client's answers into a note created using a template.
Select the template from the pick list:

When creating a note template, you can specify where the form should be imported using a %COMPLETED_FORM% placeholder:
If no placeholder is present in the template, the form will be imported at the bottom of the first available text section.