Using the Client Hub, you can reference past notes, protocols, forms and other information in the client file when creating new notes and protocols. Open a new note or protocol to get started.
Hubs are available when using the web version of your portal.
Launching a Hub using the keyboard shortcut
Press and hold the Control + Shift + Z keys together and then release them to launch a Hub.
Launching a Hub from a text editor
Launch a Hub by clicking the Hub icon in the top-left corner of the text editor:

From the hub, you'll be able to open various section of your client's file. You can also open multiple Hubs at once by clicking the Duplicate button to the left of the close icon in the top-right corner of the Hub.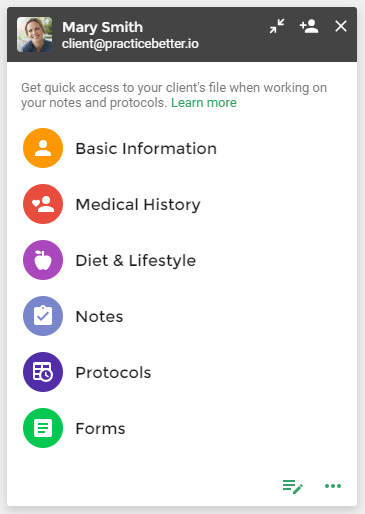 Working in Fullscreen mode
To maximize your writing area, click the Fullscreen button in the top-left corner of the notes editor:

The current text editor will open in fullscreen mode allowing you more space to maximize and open additional Client Hubs as needed: