This section covers the following topics:
Overview
Before we jump into setting up team members, let's get familiar with the types of users in Practice Better:
Team Owner - A Practice Better account must have one owner which corresponds to a clinic owner or practitioner in a solo practice. Billing statements associated with your account will only be sent to the team owner.
Practitioner - A practitioner (e.g. Nutritionist or Health Coach) can create and manage resources that they own (e.g. bookings, forms, session notes, protocols).
Administrative Users - An admin user (e.g. scheduling assistant or bookkeeper) can create and manage resources on behalf of a practitioner. An admin user does have the ability to adjust basic settings (e.g. notification preferences), create snippets and chat with other team members (and clients if granted permission).
Adding Team Members
To add a new team member to your account, select My Team from the profile menu in the top-right corner of your portal: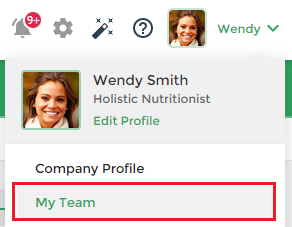 You will first need to set up a role. Roles allow you to restrict what settings and resources team members have access to within their portal. Learn more about setting up roles
Once you've defined a role, click Invite people under the Team Members section:

Enter your team member's contact information, select a role then click Send invite. They'll receive an email with instructions on how to activate their account.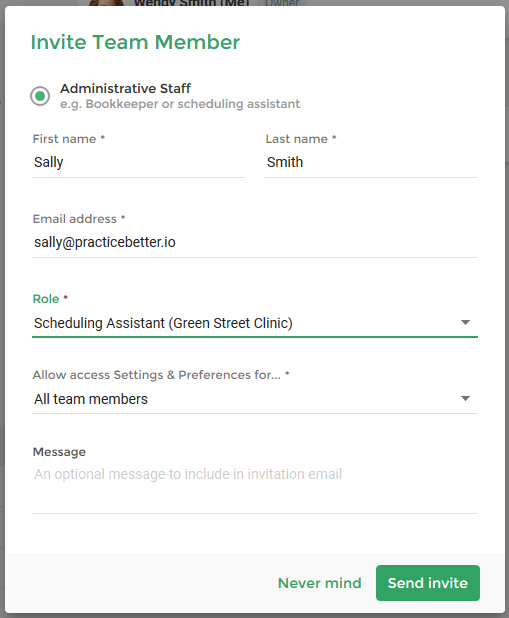 Revoking an Invitation
You can revoke a pending invitation by selecting Revoke from the More options menu next to the invite:

Team Member Add-ons
Our Plus Plan includes one admin user, however, you can add up to 2 additional admin users to your plan by purchasing an add-on. Go to the profile menu then select My Subscription: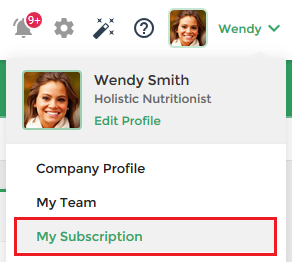 Click the View add-ons button under the My Add-ons section:

Select the Administrative User add-on from the popup, then select the number of users you'd like to add to your account: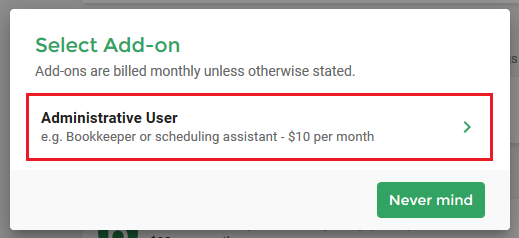 Learn more about managing add-ons here.
Managing Resources
Most sections within the portal include options to filter resources by team member. For example, one the My Services page, you'll notice a team member toggle in the top-right corner:
A similar toggle is available on the My Calendar and My Availability pages for team members with access to manage bookings: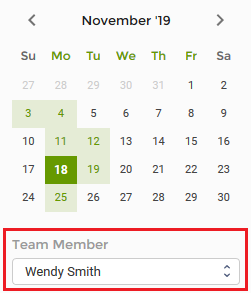 When creating practice resources (e.g. forms, services, protocol templates) on behalf of another team member, you will see the team member's name displayed in the toolbar:

Managing Settings
When managing settings, you can switch between team members using the switcher in the bottom-left corner of your screen:
Select a team member from the popup to adjust settings on their behalf: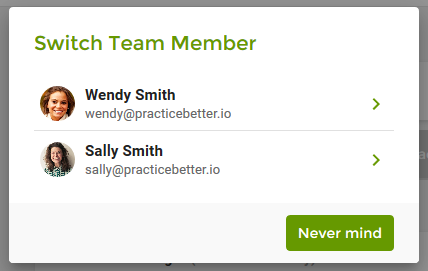 Deactivating & Deleting Team Members
Deactivating Team Members
You can delete a team member by selecting Deactivate from the More Options menu next to their name:

Once a team member is deactivated they will immediately lose access to their portal. Deactivated team members still count towards your plan limit and subscription.
Archiving Team Members
You can archive a team member by selecting Archive from the More Options menu next to their name.
Archiving a team member will permanently revoke their access to the portal. They will no longer count towards your subscription plan limit. You will need to remove any add-ons you have purchased for the archived team member if you no longer want them to count towards your subscription.
A team member cannot be reactivated once they have been archived.
Archived team member resources are not deleted and will still be available to you in your portal.
Deleting Team Members
In order to delete a team member, you will have to archive them first. Once you have archived them by following the steps above, please contact our support team.
Resources that belong to a team member are removed from the system immediately after their deletion is confirmed.
Monitoring Activity
You can track changes to resources in your account (e.g. updates to session notes) by going to your My Team > Activity tab:

Click the arrow to the right of the activity entry to view additional details: